We pride ourselves on the standard of craftsmanship we offer and our careful attention to detail and this is evident in the degree of satisfaction our clients express.
January 14th, 2012
Testimonial re installation of garden office
We had spent at least three years trying to make a decision about whether to get a garden office. We were fast running out of space in our three bed roomed house as we have one full time home office worker and I do some work from home and it felt everyone was on top of everyone else. We had looked and got brochures and gone so far as to get a quote but it was beyond our price range and we gave up. Then I came across ECOS garden offices on the web, actually while searching to see if was feasible to get office delivered from the UK.
From my first email contact with Andrei to his visit to Cork on a Sunday morning (this suited us / suited him) to the plans he drew up and was quite happy to alter, we were impressed. It was quickly evident that he knew what he was doing and was committed to getting it right. Our long narrow garden wasn't the easiest design space yet he squeezed it in perfectly. His price was excellent and we decided to make the big decision and go for it.
ECOS was open to our concerns about guarantee and reliability, but we were fully reassured by certificates and all references checked out thoroughly. The only hard bit was that the installation was scheduled for the two days last year that were monsoonal and flooding hit the country! Perhaps he should have rescheduled but probably didnít want to disappoint or concern us. So in sheets of rain he and his team worked nonstop, barely accepting an offer of a cup of tea. All the prefabrication and preplanning worked and within two days the office was at lockup stage and the following week saw completion of plastering, electrics and flooring.
Now two months on we canít believe how warm and bright the office is and the space we have gained both in the new office and in the house. I couldnít recommend the whole process highly enough. Indeed I am happy to talk to any prospective purchaser if they would like to make contact through the ECOS office.
If you need extra space an ECOS garden office may well be the solution for you.
Thanks again, Regards, ††
Mary Favier
built garden office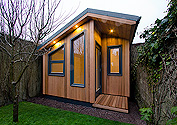 proposed garden office
Garden office designed to be bright, comfortable to work in, and pleasant to relax at the end of a work day.


č back to Testimonials
† † † † † † † †